Open Yourself to the Flow of Healing Energy! Reduce Stress, and Improve Your Outlook on Life with the Microcosmic Orbit Meditation!
Included in this course are three Chi Kung LIVE classes on video:

Microcosmic Chi Kung Class


Shaking

Warming the Stove

Connecting to Earth and Universal Energies

Circulating Energy

Laughing Chi Kung

Sitting Chi Kung Warm-Ups

Spinal Cord Breathing

Rocking the Spine

Cranes Neck Exercise

The Turtle Exercise

Roll the Shoulders

Riding the Horse

Points along the Microcosmic Orbit
These videos will help you understand and learn the Microcosmic Orbit much better.
Also included in this course is a poster of the points along the Microcosmic Orbit and a report to further your understanding.
Next sit back and enjoy listening to the audio file where Marie Favorito guides you through the Microcosmic Orbit Meditation.
As a bonus, Marie includes the Inner Smile meditation at the start of the meditation session. The Inner Smile is a simple yet powerful meditation for your whole body. It's all about loving yourself through your connection to universal energies and the power of a smile!
Enjoy!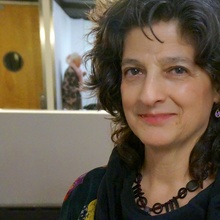 Director, Universal Tao Boston
Marie Favorito
Marie Favorito, Director, Boston Healing Tao and Senior Instructor, Universal Healing TaoMarie is a Senior Instructor in the Universal Healing Tao founded by GrandMaster Mantak Chia. Marie has 30+ years of teaching experience in the Tao: Tai Chi Chi Kung, (Long and Short Forms, Sword Form), numerous Chi Kung Forms and many levels of Meditation. Marie has years of experience teaching seniors at Senior Centers locally. Marie participates in Tai Chi studies with Harvard University. As well as teaching these Taoist practices Marie incorporates Chi Organ-Abdominal Massage, Chi Nei Tsang, CNT, and Chi Kung Healing in her private practice. She has taught workshops Internationally in Germany, Thailand, Australia, Canada, Mexico and throughout the USA. First Aid CPR AED Certified with the American Heart Association.
1

Introduction to the Microcosmic Orbit Meditation Course

2

Morning Chi Kung Class Video

Morning Chi Kung Class Video

3

Sitting Chi Kung Warm-Ups

Sitting Chi Kung Warm-Ups Video

4

Points of the Microcosmic Orbit

Points of the Microcosmic Orbit Video

5

Guided Meditation for the Microcosmic Orbit

The Microcosmic Orbit Meditation Guided by Marie Favorito