Tai Chi is both a moving meditation and martial art.
This Tai Chi Short Form Program will teach you to:
Calm Your Mind
Release Tension
Reduce Stress
Improve Your Posture
Deepen Your Breathing
Awaken Healing Energy
This Tai Chi Short Form a Yang Style Tai Chi form consisting of 13 movements repeated in 5 directions. As well, it is a personal practice for understanding the essence of breathe, intention and balance. Once learned it can be performed in 10-12 minutes making it easy to incorporate into a busy life.
This program has several chapters to help you focus on different levels of learning. Effective learning comes through focusing and repetition. We encourage you to watch the entire program and enjoy practicing it over and over again to develop brain-muscle memory.
Muscle memory starts with a visual cue and is steadily acquired depending on your dedication to practice. Once muscle memory is created and retained, you have freed up the capacity to think about other aspects of the Tai Chi form and Chi flow.
Chapter One: Instructional. This chapter presents all the moves from start to finish.
Chapter Two: Details. This chapter provides unique close ups to show how specific moves are executed.
Chapter Three: Follow Along. After you are familiar, let Marie lead you through the entire form. We have a follow-along version with instruction, a follow-along with just music.
We also have a downloadable audio file with the instruction. Once you are familiar with the visual cues for each movement you can go out into nature to practice with this audio instruction as a guide!
Even though this program was produced a number of years ago we feel the content and the learn-ability of the instruction is one of the best Tai Chi programs out there. Please enjoy!
~ ~ ~
Consult your health care professional before using this wellness program. The instruction here is not intended as a substitution for medical counseling.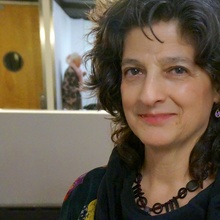 Director, Universal Tao Boston
Marie Favorito
Marie Favorito, Director, Boston Healing Tao and Senior Instructor, Universal Healing TaoMarie is a Senior Instructor in the Universal Healing Tao founded by GrandMaster Mantak Chia. Marie has 30+ years of teaching experience in the Tao: Tai Chi Chi Kung, (Long and Short Forms, Sword Form), numerous Chi Kung Forms and many levels of Meditation. Marie has years of experience teaching seniors at Senior Centers locally. Marie participates in Tai Chi studies with Harvard University. As well as teaching these Taoist practices Marie incorporates Chi Organ-Abdominal Massage, Chi Nei Tsang, CNT, and Chi Kung Healing in her private practice. She has taught workshops Internationally in Germany, Thailand, Australia, Canada, Mexico and throughout the USA. First Aid CPR AED Certified with the American Heart Association.
3

Grasp Bird's Tail Details

Complete Details (same as above but all in one video)

4

Follow Along with Narration

Follow Along without Narration

Follow Along Audio Instructions